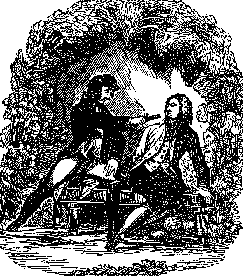 The Contemplator's Short Biographies of Some
Famous Highwaymen
The background music is Wild Colonial Boy
Sequenced by John Renfro Davis
Dick Turpin
The legend of Dick Turpin was established in 1739 with the book Life of Richard Turpin, and sealed with the novel Rookwood (1834) when Turpin became "Dauntless Dick," with his horse Black Bess.
Born in Essex in 1705, Turpin was taught to read and write and became an apprentice to a butcher. During his apprenticeship he "conducted himself in a loose and disorderly manner." (Lives, 202) When his apprenticeship was over, he opened a butcher shop, and began to steal sheep, lamb and cattle. Upon discovery he was forced to give up his shop and opened a public house. He then became a member of the Essex, or Gregory Gang. The gang broke into farm houses and terrorized the owners into revealing the whereabouts of any valuables. The gang was betrayed by one of their members for a reward, but Turpin escaped.
For a time Turpin worked with Thomas Rowden, a former pewterer. They were renowned for their impudence, reportedly riding through the city in broad daylight. When they parted company Turpin began working with Tom King, in Epping Forest. Their partnership ended during a shootout with the owner of a stolen horse. Turpin fired at the owner, and hit King, who died as a result. Turpin was again on his own.
In 1737 Turpin murdered a forest keeper of Epping Forest. A reward of 200 pounds was offered for his capture. Shortly thereafter Turpin settled in Yorkshire under the name of John Palmer, stealing horses to supply his business as a horse trader. One day, returning from an unsuccessful hunt he shot his landlord's rooster. When the landlord complained he threatened to kill the landlord as well. He was taken into custody. His identity was discovered only by coincidence after he wrote to his brother-in-law. The schoolmaster who had taught him to write identified Turpin for the reward.
Between his sentence and execution, visitors frequented Turpin's cell. He bought new clothes and shoes and paid five mourners. An account in the York Courant 7 April 1739 writes of Turpin's execution, noting his brashness even at the end, "with undaunted courage looked about him, and after speaking a few words to the topsman, he threw himself off the ladder and expired in about five minutes."
Claude Du Vall (Duval)
Claude Duval was probably the most dashing of the highwaymen. He was called "an eternal feather in the cap of highway gentility." (Newark, 55). The source of most of the stories concerning Duval is a book by William Pope written in 1670, shortly after Duval's execution. How much of the book is fact is uncertain.
Duval was born in Normandy in 1643, the son of miller. At the age of fourteen Duval was in Rouen, working as a stable-boy. In Rouen he was hired by a group of English royalists to tend their horses. When Charles II was restored to the throne, Duval returned to England as a footman to a nobleman, from whom he had clearly learned gentlemen's manners. By 1666 he was mentioned by name as a highwayman. He dressed fashionably and was gallant with women.
The best known episode of Duval's career was written by Pope. Duval held up a coach with a nobleman and his lady. Seeing they were about to be captured, and determined not to appear afraid, the lady took out a flageolet (a type of flute) and played. Duval thereupon took out one of his own and played as well. Duval commented to the noble that his wife played extremely well, and would, no doubt, dance just as well. Duval then asked her to dance. They danced on the heath and when they were done Duval escorted her back to the coach. There he remarked that her husband had neglected to pay for the music, and stole four hundred pounds from him.
Various biographers have magnified the legend of Claud Duval. He is described as an alchemist, an expert card player and gambler. Duval lived a life of wine, women, song and thievery. He was captured at the Hole-in-the-Wall tavern in London's Strand when he was drunk and sent to Newgate. He was executed at Tyburn on 21 January 1670.
Part of Duval's epitaph reads, "Here lies Du Vall. Reader, if male thou art, look to thy purse. If female, to thy heart." (Newark, 61)
"Bold" Jack Donahue
Jack Donahue may be the subject of the ballad, Wild Colonial Boy. He was born in Ireland. At the age of 18, in 1824 he was transported to Australia. By 1827 he was caught stealing with two others. Donahue escaped, but the two others hanged.
Donahue teamed up with another gang, and became so notorious that a special patrol was formed to hunt them. Again, though others were captured or killed, Donahue escaped. He took up with yet another gang. They became known for their stylish dress, as they exchanged clothes with people in the coaches they held up. In 1830 Donahue was finally ambushed by police near Sydney. He was killed in the ensuing battle. The ballad Bold Jack Donahoe appeared soon after his death. Authorities banned it's singing in beer shops and taverns.



Sources
Finger, Charles J. Highwaymen (a book of gallant rogues with illustrations from woodblocks by Paul Honore) Robert McBride & Co: New York, 1923.
Newark, Peter. The Crimson Book of Highwaymen, Jupiter Books: London, 1979.
Lives and Exploits of The Most Noted Highwaymen, Robbers and Murderers, of All Nations (drawn from the most authentic sources and brought down to the Present Time). D. W. Evans & Co: New York, 1860.
"Turpin, Dick" Encyclopædia Britannica Online. [Accessed 18 May 2000].

Related Links
Some tunes about Highwaymen and Criminals at this site: